Sep 07.2022
EDGE-FIRST: A PATH TOWARDS DIGITALISATION FOR MANUFACTURERS - Polestar Industrial IT.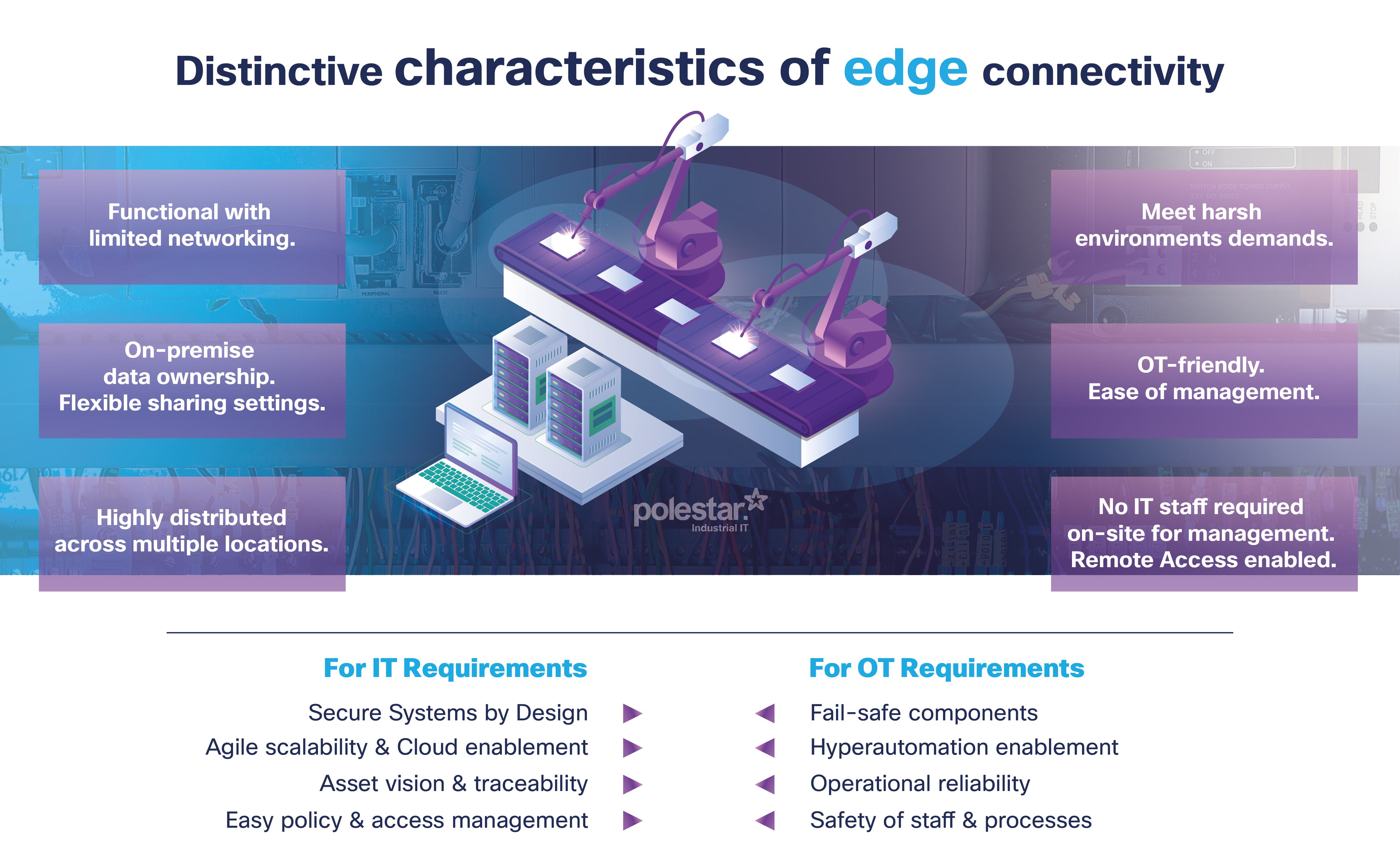 EDGE-FIRST: A PATH TOWARDS DIGITALISATION FOR MANUFACTURERS


-By Mario A. Castro-Rojas, Marketing Manager of Polestar Industrial IT.
Manufacturers in the UK have an increasing need to gather and analyse production data to gain relevance in local and European markets, improve efficiency and optimise processes.
Coherently,
Made Smarter
, an UK Government initiative leading growth in manufacturing through innovation, digital technologies and skills, has already secured £4.6m of funding for 241 projects, creating new jobs, with 80% of organisations experiencing an increase in profits.
But many manufacturers are concerned about factors such as performance requirements, network latency, data volumes, broadband access, the relative costs of cloud deployments, and mainly with security and regulatory compliance issues, which have become barriers for technology adoption.
However, to every problem there is a solution. Today, infrastructure and operations leaders can securely drive digital transformation by increasing automation, creating a comprehensive industrial data-fabric for better decision making, and implementing a consumption-based procurement of their infrastructure.
With the massive numbers of devices and associated volumes of data coming into play, including machinery sensors, CNC systems, PLCs, cranes, conveyor belts, RTLS tracked vehicles, rugged tablets and mobile devices, surveillance systems, environmental sensors and many others, most field-generated data in the upcoming years will be produced and processed outside data centres or even cloud environments, making the case for moving from Cloud-first initiatives to
Edge-first
.
Edge-first , Cloud-first, or data centre. How to choose?
Contrary to data centres, targeted data processing and analytics functions can happen at the edge, where information with immediate value is created, allowing for real-time analysis and response, without the typical latency, data transfer costs, or bureaucracy issues found in a centralised approach.
Edge computing then becomes crucial for safety monitoring, tooling control, process flow control, supply chain management, quality assurance, predictive maintenance, and overall equipment efficiency tracking among other functions.
Contrarily, industrial companies with workloads that may be mission-critical and latency-sensitive, such as robot control, vehicle tracking or substation communications in a remote oil rig or in an electric grid must co-locate data analysis and process control near the device generating the information. In these cases, workloads must run at the Edge.
When to implement IoT?
To enable data and workload distribution among the edge, core and cloud communication environments, a balanced Core to Edge approach can be implemented. Most companies will keep viewing their on-premise data center as core for their apps and enterprise data, therefore it is only wise to align the industrial edge infrastructure to this core environment. It enables IT and OT teams and infrastructures together to build an agile and scalable network with integrated and consistent management and operations. Such IT/OT alignment makes process, workload, and data migration-coordination seamless to better respond to each business needs.
This way, every company can create an integrated data fabric that is secure, adaptive and flexible, allowing a new strategic approach to the company's data storage operation and process control, unlocking the best of cloud, core, and edge while these remain centrally governed.
With an
industrial IoT service
, manual tasks like data collection and machinery inspection can be automated, centralised and made available to virtually anyone and anywhere. Nevertheless, to support these IoT platforms, a
redundant industrial network
is required.
Manufacturers need to understand that operational efficiencies through traditional cost-cutting strategies provide only marginal returns. To stay competitive, they must leverage their digitalisation through industrial IoT and resilient industrial networks to take full advantage of their production and customer data. That is where they can become exponentially agile and efficient.
An Edge-IIoT Service
Nowadays, manufacturers can access a few IoT platforms to read machinery data. Yet, only an specialised
industrial-grade intelligent Edge link & drive system
can help improve efficiency and productivity across all manufacturing processes through Edge & IoT. With a specialised platform for industrial environments, all production data can be accessed and analysed both locally and in the cloud for agile decision making, from numerical control processing to preventive maintenance and more.
Besides connecting all manufacturing devices & systems, this type of service also allows third-party applications and converters for devices, enhancing centralised management of equipment, vendors and data, as well as data sharing on the factory floor and across geographically dispersed plants.