Jun 24.2021
Manufacturers Are Eyeing IoT As The Answer To Current Supply Chain Disruptions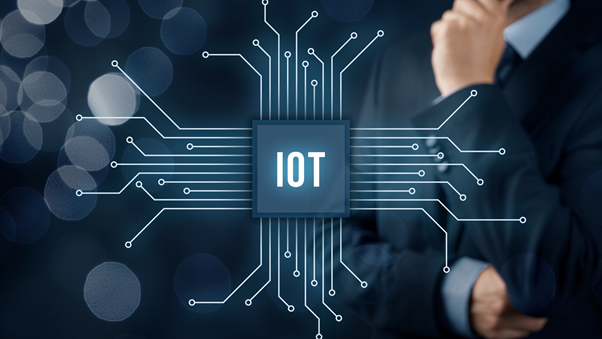 Summary


As the world edges closer to the end of a global pandemic, the manufacturing sector is under immense pressure to streamline production and supply and deliver the right products to the right customers at the right time. To ensure business continuity, manufacturers must deploy solutions that address material scarcity and close the gaps caused by recent disruptions.
With IoT solutions, manufacturing companies can establish resilient and agile supply chains to identify potential shortages and quickly switch to alternatives.


The supply chain scene was already transforming before 2020, but the pandemic kicked things into high gear. Crippled by outdated systems and manual processes, companies began struggling to achieve end-to-end supply chain visibility and maintain control. As their warehouses dried up, manufacturers painfully discovered their distributed operations were nowhere close to resilient. So, in addition to revising end-year forecasts and slowing down production, they also had to accelerate plans for innovation to address supply disruptions.
Now that the worst seems to be over, manufacturers are gradually coming out of crisis mode and planning for the post-pandemic future. Thanks to COVID-19, manufacturers have learned that resilient and flexible tech-powered supply chains are vital for business survival. More than ever before, they are restructuring age-old supply models around technologies like the Internet of Things to shore up visibility, automate processes, and deliver predictive intelligence for better decision-making.
In July 2020, Gartner surveyed
402 tech-forward firms
around the U.S., U.K., Germany, India, and Singapore, and
47% of the organizations said they plan to increase investments in IoT from 2021 to 2023
. These firms view IoT solutions as ideal tools for pursuing process optimization opportunities, particularly within supply chains.
How Does The Internet of Things Strengthen Supply Chains?
IoT has the potential to turn complex supply chains into interconnected, homogeneous networks. By intelligently connecting people, processes, and data, IoT can help companies reduce visibility gaps and introduce flexibility across supply and production chains. In addition, the capability to track materials and associated metrics like count, type, and geographical data can have a profoundly positive influence on sourcing strategies, inventory management, and supply chain costs.
Below are four key ways the internet of things can improve supply chains for manufacturers.

Predictive Analytics


An adequately outfitted IoT network can help manufacturers identify improvement opportunities across all segments of their supply chain. Because IoT sensors can be deployed to track material movements from source to destination, companies can get real-time insights regarding high-performing partners and bottlenecks and use them to predict future opportunities and risks.
As companies continue to face pressure to streamline their supply chains, the use of data-collecting sensors is expected to rise in the coming years. As a result, integrated IoT solutions will be at the forefront of providing real-time data streams that companies will use to improve processes and make better strategic decisions.

Automation


Manufacturers are increasingly deploying technology to automate traditionally arduous supply chain processes like logistics and warehousing. An IoT platform can eliminate the headache-inducing task of manually looking for products in large warehouses.
Integrated sensors can signal autonomous robots to retrieve goods, saving manual labor, reducing errors, and adding transparency. The same sensors can also trigger re-orders when inventory dips below a pre-set level. With automated stock monitoring, manufacturers can rest easy knowing their orders are always placed on time.

Streamlined logistics


Efficiency and accountability are crucial areas of a functional supply chain, and IoT addresses both. Connected devices like GPS monitors, RFID tags, and sensors can track everything from a shipment's position to its temperature, providing real-time facts that allow for timely responses to supply breakdowns.
By-the-minute tracking is especially critical for high-value items and perishable products. IoT can offer reliable solutions for monitoring parameters like temperature and humidity and help protect manufacturers from spoiled raw materials. In case of damages, documentation can be provided with accurate details of the time and location of the damage for maximum accountability.
DHL and Cargotec are among the global logistics companies currently investing in IoT to monitor operations, increase visibility, and save costs. With IoT, these firms are tracking their trucks in real-time and using data to predict future demand.

Security


Supply Chains are notoriously insecure. The many hands that handle goods as they move from the supplier to the customer create numerous opportunities for malice to prevail, both online and in the real world. Although IoT by itself cannot fill the security gaps in supply chains, it can help minimize the risks. Organizations have started securing their supply networks with RFID tags and closed-circuit TV cameras, which monitor product movement while in transit and warehouses.
Blockchain-based IoT solutions are also taking hold, offering more secure and autonomous platforms than traditional systems. Recording transactions in an immutable, decentralized blockchain ledger reassures buyers that the supplier did not deliver compromised products.

What Does This Mean To IoT Suppliers?


In today's highly dynamic supply chain scene, technology is a crucial proponent of resilience. The right tools can help gather insights essential for building more accurate forecasts, scenario plans, and warning systems.
For IoT developers and suppliers, the onus is on them to study the needs of manufacturers and provide platforms that offer the best solutions at reasonable costs. IoT's multitude of applications in manufacturing translates to a wide range of opportunities that suppliers can exploit.
So, do you have an IoT solution that offers significant supply chain or production improvements to manufacturers? Register on
IoT2MARKET
for free today, and start getting leads from potential customers who need your product.