Mar 24.2021
Trends Transforming and Shaping Smart Cities in 2021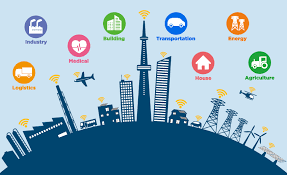 In this article, we'll take a look at:
In this modern-day and age, sprawling and bustling urban cities are actually vying to get the "smart city" tag, so they have gone to great extents to modernize to keep up with other smart cities. But what does this branding really mean? What makes a city smart in comparison to others? To flesh out the trends for smart cities for 2021, which is the onset of a new decade, it is critical to first define what a smart city really is all about.



Definition of Smart Cities


In layman's terms, smart cities leverage the latest technology to address broad issues like neighborhood safety, economic development, waste disposal, delivery of potable water, urban planning using green solutions,
transportation concerns
, and the like. The past few years have seen cities imbibing digital transformation trends to improve their citizen's quality of life.
Sometimes, these smart cities are referred to as wired cities, digital cities, intelligent cities, or even cyberville. For the upcoming 2021 year, there will be core technologies that will stay a part of the transformational journey of smart cities. At the same time, there will be fairly new technologies that have been sitting on the sidelines in the past years, which are now ready to take center stage. Some of these are advanced data analytics, AI, and 5G. Let's discuss these top 10 smart cities trends along with the estimated top 10 statistics further below:



Top 10 Smart Cities Trends for 2021



5G for Everyone


The concept of 5G is slated to dominate this year, with the biggest names in telecom like Verizon, Nokia, Ericsson, AT&T, and more, making sure that their 5G offerings stay on point. In the same token, Android's handset makers will hit the ground hard and running with their 5G offerings in 2021. Because of faster speeds and more reliable connections, smart cities will reap its benefits by being able to offer smarter vehicles, smart processing and manufacturing, and more because they rely on this technology, too. Phones will not just be improved, but just about anything that impacts a human being's daily life shall be affected positively by the onset of 5G.



Speedier Wifi Translates to a Faster World


Although 5G and WiFi6 are completely different, both technologies do bring everyone faster processing and better wireless connection speeds. Both offerings shall create faster connectivity for office, home, and in-transit use. Download speeds will be three times faster than ever before. The best part, this is extended to far more devices than the previous WiFi5 was able to manage. In 2021, more gadgets can stay connected to the WiFi service without altering its capabilities. From ten devices, it is slated to cover fifty over this new decade. On top of that, this faster, smarter, and more efficient
WiFi6 can handle a much better load
and increase both the quality of data consumed and the volume.

Analytics Shall Become the Competitive Edge


Those companies and organizations that don't invest in data analytical tools are necessary to stay on top of the game. They help in identifying problems, zeroing in on opportunities, and finding solutions. Real-time data processing shall be one of the main points of digital transformation in smart cities this year.



Machine Learning and AI Shall Be Forces Multiplies To Boost Data Analytics


Those who choose to leverage analytics need to invest in
machine learning systems and artificial intelligence
to navigate the vast amounts of information. These values can be seen in speed, scale, and convenience. Speed and scale showcase the significance of automating and letting computers do the work, as opposed to assigning real humans who are more prone to actual errors. Thanks to these two, computing large sets of data is possible and can be done at a mere fraction of the time without compromising accuracy. Machine learning and AI have gotten better at analysis, and they can also be scaled while they are in their cloud storage. In terms of convenience, these machines are also a lot easier to use and definitely a lot more reliable than the older methods of yore. As good as these machines are performing the past few years, they are slated to improve by leaps and bound this 2021.

Blockchain Shall Move Beyond Crypto


Some say that blockchain was a busted overhype this 2019. However, many products that this will finally see some scale this 2021. Blockchain is set to be used for more cases beyond cryptocurrency. Right now, everyone knows that
Amazon Web Services
has democratized blockchain technology with their blockchain-as-a-service platform, which people can choose to subscribe to. Noteworthy, they are not alone in the endeavor. Many industry leaders like Samsung, Microsoft, IBM, and China's Alibaba have moved to do this as well. Now, there are many cases where blockchain technology is used beyond payments and cryptocurrencies. It has been incorporated in intellectual property and royalties, food safety, and real estate asset management.

The RPA Catches a Second Wind


RPA or robotic process automation
is not a new concept, but it is said to the lowest hanging offering on the AI segment. But as RPA continues to grow and show reliability, 2021 is predicted to be a big year for RPA investments. Last 2019, investments were already poured into these companies such as UiPath, Automation Anywhere, and Blue Prism. On top of that, an established company like
Cisco
is now using RPA to help create rooms for improvement. They can readily increase the value of their existing workforce with this kind of automation. By utilizing this model, smart companies in smart cities are expected to leverage this winning formula.

Conversational AI Will Now Morph Into a Legitimate Interface


Some people feel very frustrated with Siri because the platform makes it very difficult to craft a decent voice to a text message. However, some conversational AI tech will become useful in 2021. Software project like
Microsoft Conversational AI
is currently doubling their efforts to improve this platform, so they just won't hear correctly. The goal is to follow complex conversations and understand the complexities of emotion, too. The reason for this improvement is that chipsets, silicone components, and SOCs, which have been specifically crafted for smart gadgets, have grown increasingly exceptional at isolating human voice. Noisy background noise can be isolated; thus, processing language and accurately reproducing or breaking it down via text can be done in real-time.

APCs Will Revolutionize the Laptop Market


These days,
ACPCs or always-connected PCs
can now function on near-full-day battery life. With strong improvements under this in 2021, people can expect multi-day battery life for there to laptops in the coming days. These new features will indeed make laptop computers a truly portable beast. This feature can revolutionize smart cities with many other forms of tech the following suit.

The New Reality will be Connected Vehicles and Autonomous Drones in Smarter Cities.


These
autonomous cars
are being slowly introduced, and they will certainly gain traction this 2021. Telsa has made great improvements with this technology, but a collaboration between automobile manufacturers and tech makers will ensure that this area will be boosted up in the coming new year. For instance, companies like Qualcomm and Intel, along with Ford, Volvo, and BMW, have partnered up with Uber to build an autonomous fleet. Even Amazon is gearing to deliver orders via an autonomous drone.

XaaS and UX/CX will Gain More Momentum.


Everything as a service and more
User and Customer experience
will gain even more momentum in 2021. Even the HP or Hewlett Packard company made an announcement that they would be offering their portfolio of these services by 2021. Most providers are moving towards this direction as there is an evolution of the on-site, hybrid, cloud, off-site, etc., methods. Competencies are greatly improved because of 5G and wifi6 along with conversational AI and gesture analysis, making sure these changes are felt across industries from healthcare, hospitality, transportation, and more in 2021.

Smart City Stats and Growth Projections in 2021


There are many interesting, smart city statistics for this year. Some of them were reported in this year's Statista and IDC FutureScape: Worldwide Smart Cities and Communities 2019 Predictions. A few of these highlights are:


The Smart City investment is slated to peak at $158 Billion by 2022. The fastest growth in all aspects is expected in the Americas, with the most spending seen on the public transport sector, along with fixed visual surveillance.
It is predicted that by 2023, 50% of cities use platforms that shall rely on their own crowdsourced participation when it comes to city budgeting and decision making.
Water scarcity is seen as a risk multiplier for this year. Thus, it is expected that by 2024, 45% of cities and communities will IoT-Enabled Water Management for Usage and Quality Monitoring, and Leak Detection.
The global smart city spending is set to reach an astonishing $34.5 billion by 2021.
The utility sector is slated to increase beyond the 2018 figure of 436.5. The smarty energy's share of the global smart city market is at 15.8%.
The projected spending of the smart grid in the North American Market by 2023 is expected to be at $16.8. In addition, the microgrid generation capacity of SouthWest America is said to be 700 MW. In California, there will be a boost of 12.79 million smart meters installed.
In terms of smart construction and manufacturing, revenue for commercial and institutional systems worldwide will reach $14.92 million. In North America alone, the IoT-enabled smart building market for 2021 is $44.81 billion. Smart lighting in the global residential building segment is expected to reach $2.88 billion.
The smart transportation sector sees the global automotive sensors market to spend $43 billion by 2021. The estimated connected car shipments are slated to be 83.25 million units by 2021. On top of that, the number of installed connected things that shall be seen in the global public service sector is 167.4 million units.
Smart cities will not be complete without smart homes, so the forecast for the smart home market around the world in 2021 amounts to $40.9 billion. The estimated home technologies sale in 2018 was $4.6, and this is expected to grow by at least ten percent this 2021. the revenue of the global home security market for this year is expected to be $2.58 billion.
In terms of healthcare, there will be smarter functions as telehealth and virtual health become key players in terms of diagnostics, assessment, and treatment of patients.

Bottom Line


The older and more mature technologies will not be obsolete this 2021. Instead, they will remain significant factors that will have the power to transform enterprises and personal lives. The upward trajectory of the transformation programs in 2021 will, after all, be dependent on the evolution of existing tech. Those that don't want to be left behind need to prepare new and better mobility offerings, better consolidation, and overall better performance for a world that has a growing dependence on all things gadget/tech.